about us
We build the very best umbrellas.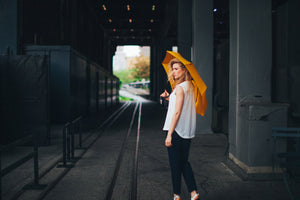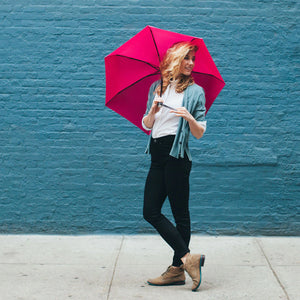 Buy Once. Buy Well.
Based in New York City, DAVEK (pronounced dah-vek) is all about authentic quality. Our products are built to endure over time. Meticulously crafted from the finest materials, we combine aesthetic beauty with unsurpassed durability, perfect for the modern consumer.
Exceptionally Strong Umbrellas.
Back in 2005, we started with umbrellas. Exceptionally strong, dramatically durable umbrellas. By combining engineered performance with metropolitan style, and by offering a series of genuine technical improvements, the umbrellas were first embraced by designers, industrial engineers, and other creative professionals who demanded products that were intellectually designed and met their high aesthetic standards.
Accessories that Endure.
Anchored by its reputation for quality and durability, DAVEK now offers a range of bags, wallets and related accessories. All are built with the same devotion to detail, durable craftsmanship, strict quality control and exemplary customer service.

We believe a great accessory is able to transcend its practical purpose and become something much more, a powerful and eloquent representation of its owner's lifestyle and taste. And it all begins, as you might expect, with quality.
We think it's better to buy one high-quality product that will last for many years, than an endless stream of cheaper replacements.
Video
BUILT TO ENDURE,
METICULOUSLY CRAFTED.
Why Davek?
What if shoes were disposable? Or handbags or briefcases? What if your only choice for personal accessories were cheap, undifferentiated and poorly made? For umbrellas, there was once such a time, when there was no choice—all umbrellas were disposable. Enter Davek—this is no ordinary umbrella. Our umbrellas are strong and engineered to last. They are a long-term investment. We believe that one high-quality purchase is better than an endless stream of cheaper ones.
What's so special about them?
Pick up a Davek umbrella and you will immediately sense the umbrella's durability. We rebuilt the frame from the ground up—and created a work of art. We believe that a great accessory can transcend its practical purpose and become something much more, a powerful and eloquent representation of its owner's taste and values. Our aspiration is not to make a better umbrella, but to make a perfect one. It's an ongoing pursuit. Everything matters—the balance between rigidity and flexibility, the resistance to wind, how tightly it furls when closed. We choose materials that will endure over time. And one umbrella that lasts for many years is one less umbrella in the landfill.
Why do Davek umbrellas cost more than conventional umbrellas?
We only use the finest materials to make our umbrellas. Davek umbrellas are engineered for ultimate durability—each umbrella is crafted using 96 painstaking steps and 12 points of inspection. The result is a product with unparalleled quality, flawless performance and guaranteed durability. Rather than buying two or three umbrellas every year, our buyers are ready to make a long-term commitment. We understand the implicit agreement: If you pay the right price, we will give you something that will stand the test of time.
What if I lose my umbrella?
Every Davek umbrella comes with a unique "loss protection" serial number. If you lose your umbrella, you can use this number to redeem a replacement umbrella at up to 50% off the regular retail price. Redemptions are limited to one replacement per original purchase and the number automatically deactivates after first use.
What happens if my umbrella breaks?
Our umbrellas are built to last—with proper use, your umbrella should remain by your side for many years to come. But we understand that things happen. A cab door can accidentally slam on the shaft. Your cat decides to use it for a scratching post. Hurricane Sandy happens. Not to worry—all Davek umbrellas are covered under our famous Unconditional Lifetime Guarantee. If your umbrella should fail to function properly for any reason, we will gladly repair or replace it for free (except shipping).
Our Guiding Principles
Apply the highest standards for uncompromised quality, durability and reliability.
Maintain a maniacal attention to detail and craftsmanship.
Maintain a continuous process of improvement in the design and production of our products.
Embrace our customers' feedback as an essential part of our product development process.
Strive to develop enthusiastically satisfied customers.

Recycling
Our lifetime guarantee means our umbrellas should endure over time with proper use. One umbrella that lasts for many years is one less umbrella in the landfill. Unfortunately, there are some umbrellas that are beyond repair. We take steps to be responsible for the environment by properly disembarking these fallen comrades. Defective units are processed by a Business Integrity Commission (BIC) approved recycling resource center. All materials are brought to a sorting station, where they are double-sorted, baled and shipped to an advanced recycling facility, where the materials are recycled accordingly.
CORPORATE OFFICE
(212) 749-8746 tel.
Davek Accessories, Inc.
115 West 30th Street
Suite 1205
New York, NY 10001

AUSTRALIA OFFICE
DAVEK ACCESSORIES AUS
6 Leeds St
Woodville North SA  5012
support.au@davekny.com